Kailash Manasarovar Yatra by Luxury Coach/Jeep - 14 Days
(Guaranteed Fixed Departure Date 2013)

Months

Fixed Departure Dates by Luxury Coach/Jeep

May
08, 15, 19 (FULL MOON) , 22, 29, 31
June
05, 12, 17 (FULL MOON) , 19, 26
July
03, 10, 16 (FULL MOON) , 24, 31
Location:Tibet China,Asia
Over view:
Mt. Kailash (6714m)
is the most sacred mountain in Asia. It is believed to be the physical embodiment of the mythical Mt Meru, said to be the center of the universe or 'navel of the world' . Mt. Meru is depicted as a mandala, and its image occurs throughout both Buddhista and Hindu parts of Asia. Mt Kailas is holy to followers of four religions. To Hindus, Kailas is the abode of Shiva and nearby Manasarobar Lake is the means or soul of Brahma. Tibetans call Kailas Kang Rimpoche. Jains worship it as Mt Ashtapada, the peak from which the religion's founder, Rishabanatha, achieved spiritual liberation. Followers of Bon-Po, the ancient pre- Buddhist shamanistic religion of Tibet, revere Kailas as the soul of Tibet. Mt. Kailash has long been an object of worship for four Major religious, for Hindu, it is domain of Shiva, It is also the abode of samvara-a multiarmed, wrathful deity worshipped in the chakrasamvara Tantric cycle of Tibetrian Buddhism. The joins of India also reverse the mountain as the site at which the first of their saints emancipated. And in the ancient Bon religion of Tibet, Kailash was the secred nine storeys Swastika Mountain, upon which the Banpo founder Shenrab alighted from haven. The 53 Km. Kailash circuit is the holist of all-Hindu as well as Buddist pilgrimages and the beacon, which draws most traveller to western Tibet. It is said that a single Parikarma erases the accumulated sins of a lifetime,while 108 cicurmbulation will achieve Salvation.
Lake Mansarovar: At an elevation of 4510m, is more important to Hindus than to Buddhists. Hindu pilgrims make an 85km. circuit around Manasarovar that is made longer and more difficult by marshes and complicated stream crossings. The Tibetans, being more pragmatic, often make a circuit of the lake in the winter when the streams are frozen and the route is shorter. Near Manasarovar is another large lake, Rakshas Tal, the 'Demon Lake' that holds far less spiritual significance.
Sprawling below Mount Kailash is the sacred lake Manasarovar (4510m), where ritual bath will deliver a pilgrim to brahm's paradise and drink of its water relinquishes the sins of a hundred lifetimes.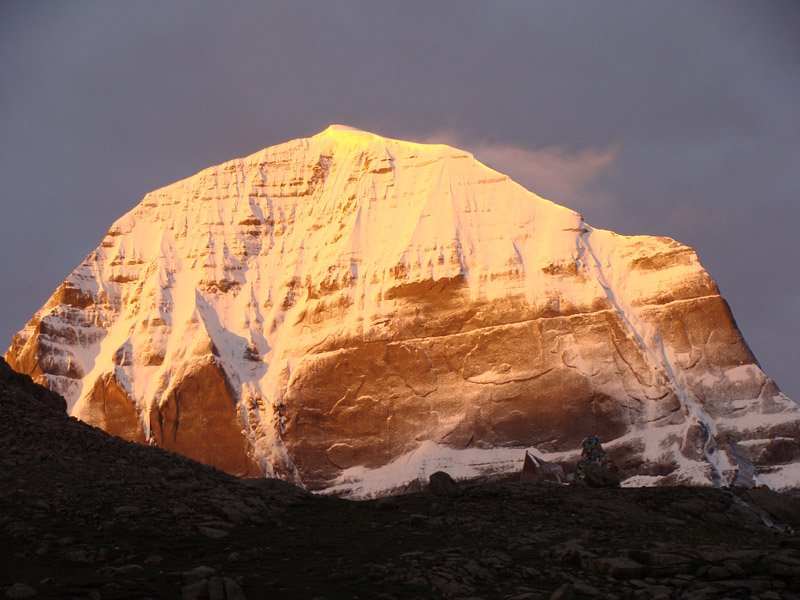 ITINERARY: MOUNT KAILASH MANASAROVAR YATRA -15 DAYS
Day 01:
Katmandu
(1300 mts.) Arrival, Our representive will meet at the airport and escort to the Hotel, Free at own and Evening dinner, overnight stay at Katmandu.
Day 02:
K

atmandu
- After breakfast start to Katmandu sightseeing including Pashupatinath and Budha Nikanth Darshan, back to hotel and rest of the day is free for packing and program briefing.
Day 03:
Katmandu
to Nyalam (3700 mts. - 160kms.) - This is the first day of the Yatra. After breakfast depart from Katmandu to China border by reserved tourist coach. It takes about 05 hours. Our agent will complete custom formalities and check into Tibet - an autonomous

part of China. After lunch drive to a small Tibetan town called Nyalam by Land Cruiser. Overnight stay at Nyalam hotel. Breakfast and dinner in camp side and packed lunch will be provided.
Day 04

:
Nyalam Full day acclimatization - Full day free for excursion of Nyalam city.
Day 05
:
Nyalam to Saga / Dongba (4500mts. - 375kms) - After breakfast drive from Nylam to Dongba for about 08:00 hours. Overnight stay at Dongba in tent or Hotel.
Day 06
:
Saga / Dongba (4500mts. - 335kms) to Paryang / Chui Gompa - After breakfast drive from Dongba to Chui Gompafor about 07:00 hours. Overnight stay in tent or Hotel.
Day 07
:
Stay at Mansarovar (4510mts.) - free for pooja and hawan, This is the first day stay at the bank of the Manasarovar Lake. Overnight stay in tent.
Day 08

:
Mansarovar to Darchen (4600mts. - 110kms.) - Mansarovar Parikrama by Land Cruiser. We will choose the special point to take dip in Manasarovar Lake and do Pooja of Lord Shiva. Full day free for spiritual activities. Drive around 2.30 hrs to Darchen and overnight stay there. Astapad excursion can be done at extra cost.
Day 09
:
Darchen to Diraphuk (4890mts. - 12kms.) - This is the first day of Kailash Parikrama. We should start our journey after breakfast as early as possible. This day we have to walk continuously for about 6 to 7 hours. Yak will carry all our goods and equipment. Overnight stay at Diraphuk in tent.
Day 10
:
Diraphuk to Zhulthulphuk (4790mts. - 22kms.) - This day is very sensitive and we have to pass Dolma-La Pass, which is 5400 mt. above sea level. The weather in unpredictable in Doma-la Pass and at any time snowstorm can fall. So we try to start our journey
as early as possible. In route we can have Darshan of Gaurikund but it is very difficult to go and touch. Overnight stay in route to Zhulthulphuk in tent.
Day 11
:
Zhulthulphuk to Horquo - We will Trek down to Darchen later our tour starts back for Kathmandu following the same route and same system applies for all subjects of our accommodation and meal.
Day 12
:
Horquo to Dongba - Drive back to Dongba.
Day 13

:
Dongba to Nyalam - Drive back to Nyalam, which is the last stay in Tibet part.
Day 14
:
Nyalam to Kathmandu - After custom formalities we will be picked up by Nepal side and continue drive to Kathmandu for about 05.00 hours and check into same hotel.
Day 15
:
Morning check out hotel, transfer to airport, catch flight for your- Destination. OR Dep. At 7 am after breakfast To Gorakhpur and Arr. Gorakhpur at 6 pm Transfer to Railway station train your Distination.
IMPORTANT PRE-DEPARTURE INFORMATION:
Clothing:
Casual wears and comfortable walking shoes are the rule of Tibet . Be sure to bring warm clothing as nights and early mornings can be quite chilly to down right cold. Indian Pilgrims strictly no Sari. Bring all the film, medicine, cosmetics, personal toilet items etc. that you will need from home as these are difficult if not impossible to obtain on the way. A small first aid kit is also a good idea. Also quite useful is a route map, to know where you are going and have been each day.

What to take

:
Winter wear: Gore-Tex material, though expensive, is highly recommended. Down jacket, raincoat or windbreakers, thermal under wears, Jackets, warm trousers & woolen shirts (cotton will also do), warm sweaters, woolen gloves, sun hat, comfortable shoes, light leather boots in case of snow, woolen balaclava ('monkey cap') & scarf/dust mask to protect your eyes & nose from dust.

Bring with you
:
Snacks along the way. Chocolates, dry fruit, toffees, glucose; 'namkeen' etc. Strong water bottle & water purifying tablets. Personal medical kit and Diamox tablet (for high altitude). Sun glasses (to protect your eyes from UV, which is especially strong in high altitudes). Sun block or sun screen lotion, wet tissues (Fresh-ones are excellent to wipe off the dust), clothes-line/clips, needle & thread, deo-spray (handy for smelly boots/feet and for a round of spray in the toilet tent!), toilet paper, torch & spare batteries, daypack (small shoulder bag), Camera & films, Binocular.
Health:
This is one of the toughest high altitude road journeys on earth. You Must be physically fit - no two ways about that. Generally patients with asthma & heart problems have a problem acclimatizing to high altitudes. In your interests it is essential you should be examined by your doctor to know about your health condition and your ability to cope up with the rigors of high altitude travel for days in 'no road' conditions, extreme cold, dust, trekking to an altitude of 19500ft during the Parikrama, etc